Updated August 2nd 2022
I originally set this page up as Issued Place, which means the stamp or manuscript endorsement has the location where a 730 note was issued, reissued or paid out from. However, many collect these notes with any type of endorsement or stamp. Some of those are official receipts, or From, and Other post WAR endorsements such as UCV, UDC, court cases, advertising, &c. Any 730 with location will be imaged on this page. The images are listed in alphabetical order and PLACE constitutes one of several ways you can collect Trains & Hoers.
All the images are from notes in TRAINMEN collections. These images may be saved for your personal reference; but, they remain the property of TRAINMEN, Col Crutch Williams CSA TM01 and as of January 1st, 2019 Roger Adamek who now controls the CSA Trainmen website. They may not be used for any other purpose without first requesting and being granted permission in writing.
The images have been saved in many sizes and are reduced on the page. In many cases you can
Double click an image to enlarge it
. Any image with an asteric (*) is a Black & White photo-copy.
Jackson Mississippi
ARKADELPHIA ARKANSAS (
Trans-Mississippi
)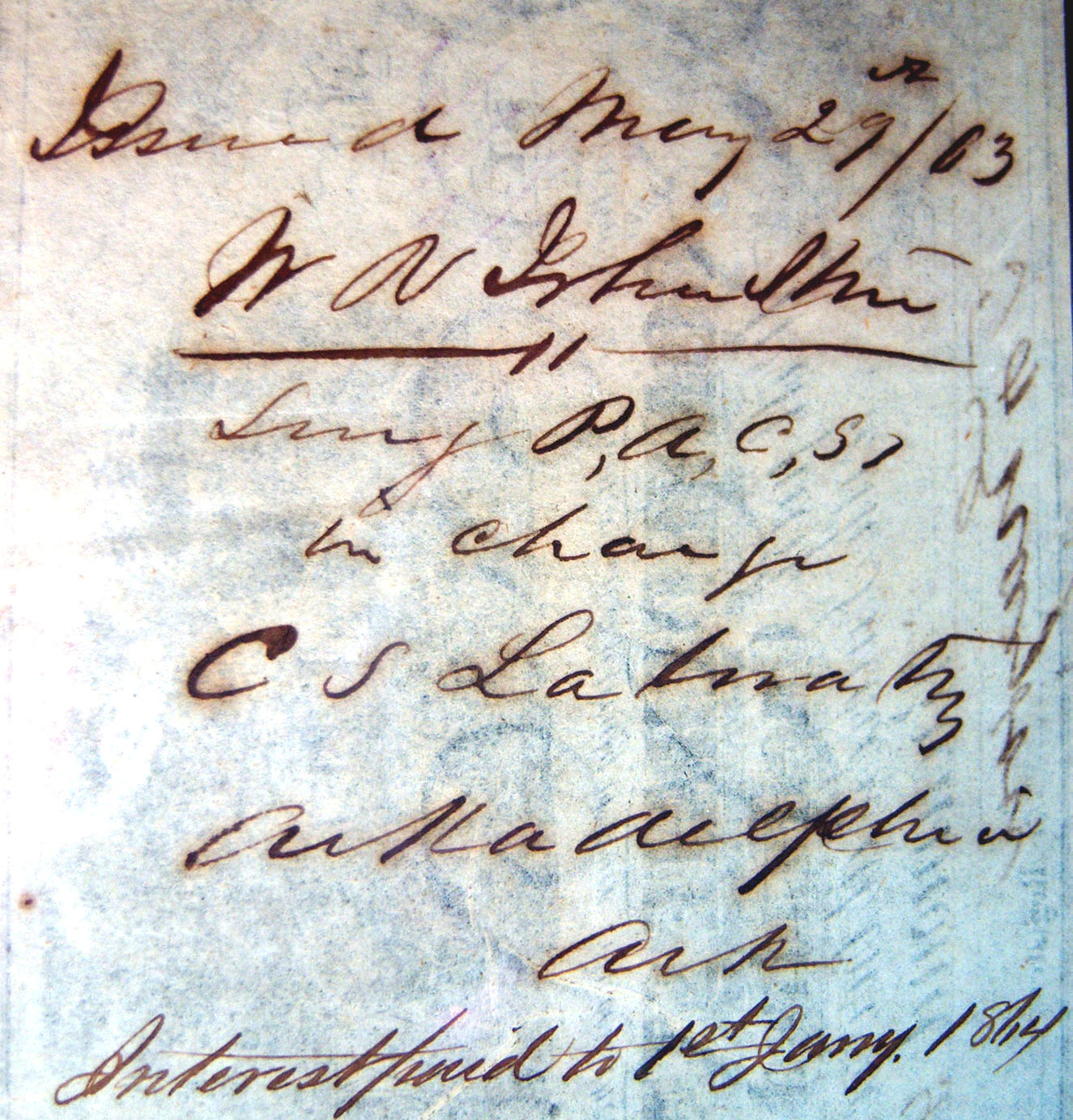 Issued May 29, 1863 by W. R. Johnston, Surgeon PACS Confederate States Laboratory Arkadelphia, Arkansas. Medicine and bandage were produced in this location for the War effort. (Photo)
ATLANTA GEORGIA (
AT
)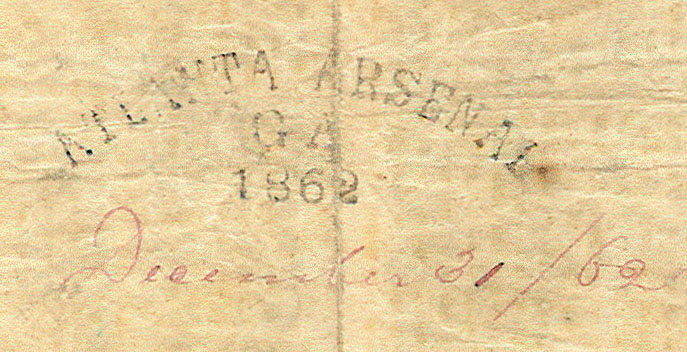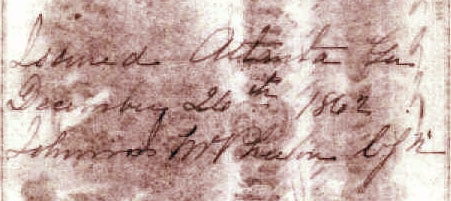 Military: Atlanta Arsenal 31Dec62 (*) Naval: 26Dec62 / McPhearson CSN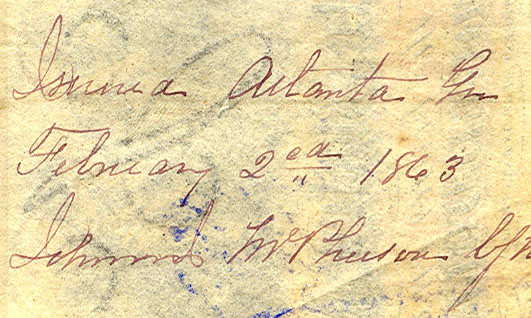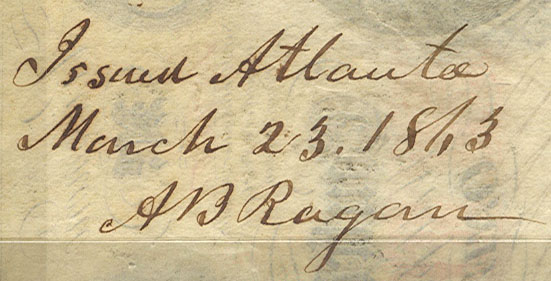 Naval: 2Feb63 / McPhearson CSN Dual Classification: Atlanta Georgia 23Mar63
A.B. Ragan was Major in Quartermaster Dept.
AUSTIN TEXAS (
Trans-Mississippi
)


Agent: 14Mar63 Agent: 15May63
BATTERY FUSILIER (
Trans-Mississippi
)

Battery Fusilier is believed to be a military position on the Louisiana side of the Mississippi River. Dated Feb 27th 1863, this one is an Artilery branch Military Issue.
This image cannot be enlarged.
BEAUMONT TEXAS (
Trans-Mississippi
)

Beaumont Texas, Nov 7th 1862. While there is no rank indicated,
this is a military issue since the initials AQM (
Acting Quarter Master
)
follow Brown's name.
BONHAM TEXAS (
Trans-Mississippi
)
Supply location in North Texas near Indian Territory (Oklahoma) border


March 11, 1863 <<
Both endorsements are considered Agent
>> March 28, 1863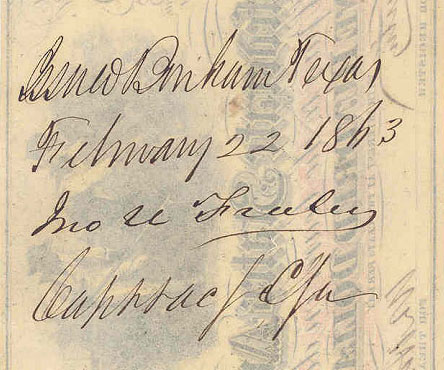 February 22, 1863 issued by Fraley. This piece
is probably military; but, could have been civil.
He endorsed the note as Capt. & ACS which
stands for Acting Commissary of Subsistance CSA.
Commissary was a position and not all who held
the position had military rank. Those needed in the
military were later redesignated Quarter Master or
AQM and the others, with rank removed, simply
became Agents of the Treasury Department. A
Commissary Agent acted in dual role for Military
and Civil government well into 1863.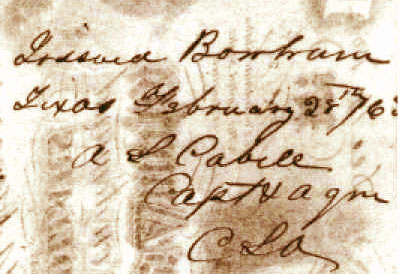 (*)
This is definately a military issue as Cabel has title
Capt. & AQM CSA.
This image is B&W copy.

BRIDGEPORT, AL
(AT)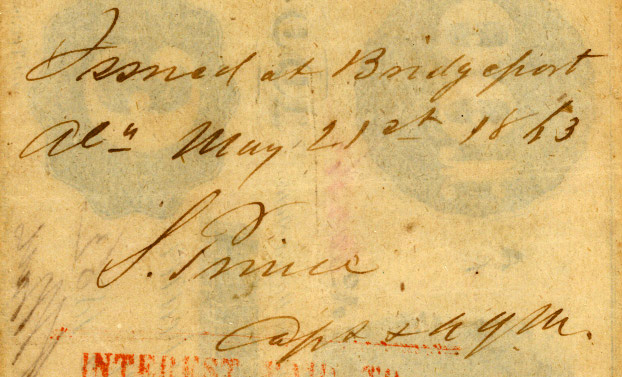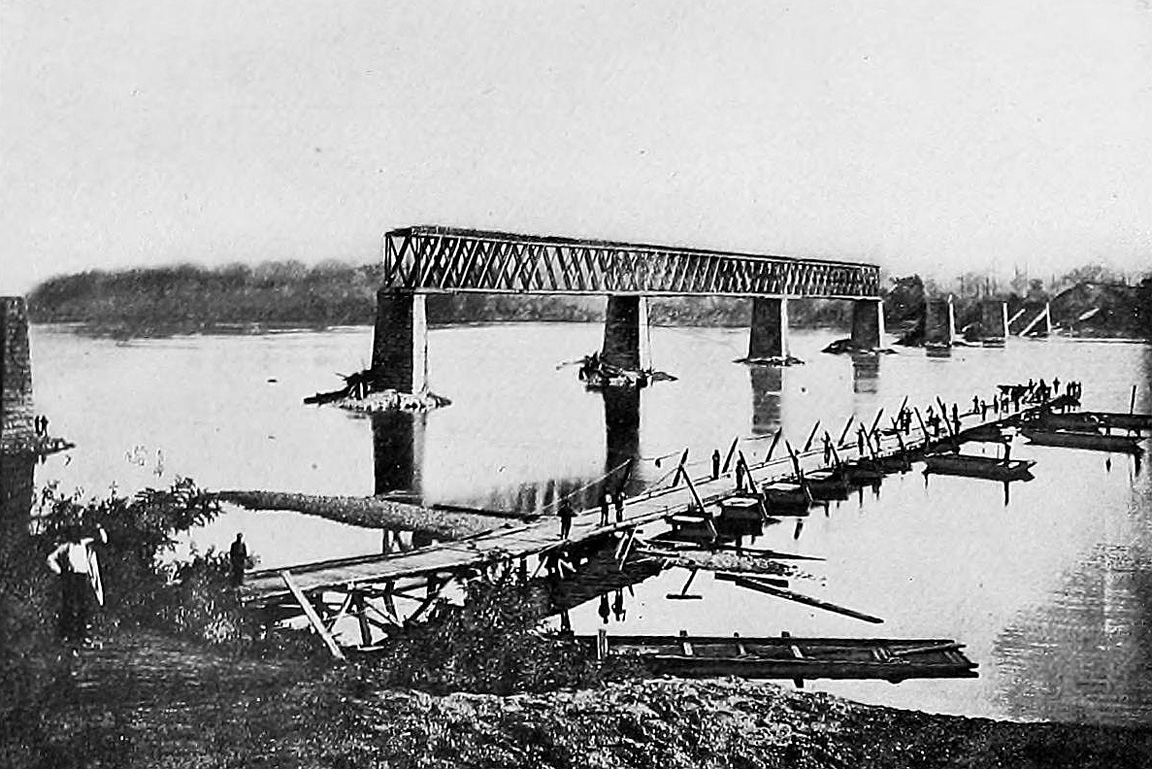 Military Issue: May 21st 1863
Destroyed Bridge at Bridgeport 1861
Issued by Samuel Prince, Captain & AQM
(No historical background available at this time)
CAMP BRUIN (TM)

Military Issue: 12 December 1862
Image can't be enlarged.
Previous listing as
Camp Brown
was incorrect. We weren't sure of the name until another clearer example showed up. Camp Bruin was located across the Mississippi River and to the south of Vicksburg, Mississippi. It is today identified as an oxbow lake called Lake Bruin which is found in Tensas Parrish, Louisiana.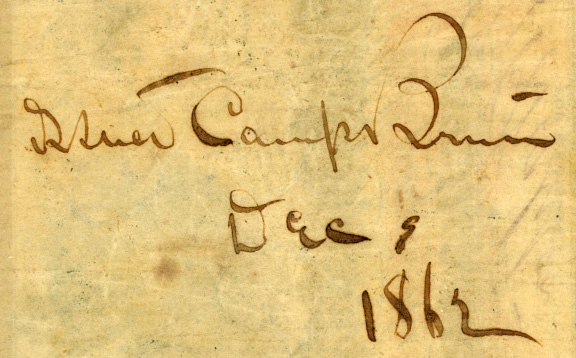 Military Issue: 9 December 1862
This is the second image of "Camp Bruin" which surfaced January 2015 that led us to change the designation from
Camp Brown
to Camp Bruin. Clearly the i is doted here and if you look close in the first image there is an ink dot above the blue in the right hand corner.
CAMP LILLY (TM)
TEXAS
Military Issue: 23Mar63 Camp Lilly was a Texas "camp" probably between San Antonio and Houston or between Port Lavaca and Houston. Another note recently surfaced with the same IP stamps found on an AQM Houston issued note and with San Antonio notes from the same run. For years it was thought that "Camp Lilly" was a location in Virginia but we now have the proof it was Texas. Most likely this note was issued by
Edwin Lilly
who became AQM of 33rd Texas Cavalry that formed in Houston early April 1863. The San Antonio notes were earlier, both Camp Lilly are March 23rd and a Issued Houston AQM is dated April 14th.
IN CAMP
(Location Unknown)

Most likely a
Military Issue
, but it could have been issued for civil purpose.
The actual place this note was issued is unknown. I have seen others where it only says "In Camp" with a date. We decided to image one for reference.
CHARLESTON SOUTH CAROLINA (AV)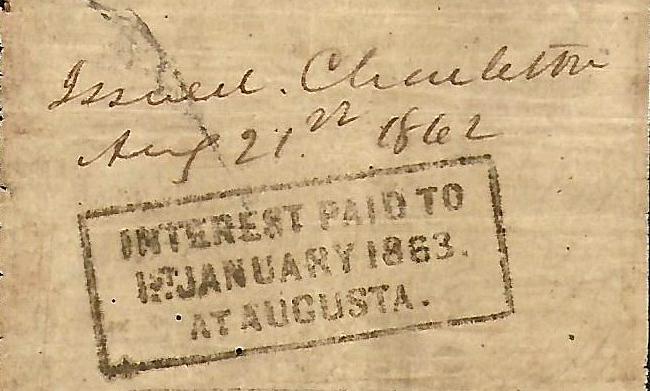 This is the only known example of manuscript
Issued Charleston
(South Carolina) known to the Trainmen. It has set in a collection for over 15 years where it was forgotten until the 2020 Covid-19 pandeminc came along. It was rediscovered and brought into the light of day again. Maybe someone
will find another one one of these days; but, for now this piece is UNIQUE!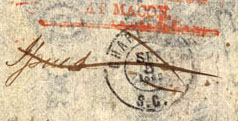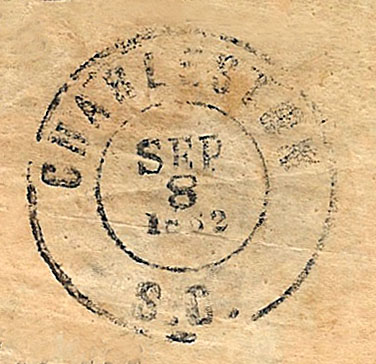 September 5, 1862 September 8, 1862
These are civil issues most likely by Depositary Agent using Postal Stamp for issue date. There are other dates and more will be added as imaged. The first has "
Issued
" manuscript along with the stamp. Many are found this way. The second doesn't have the manuscript issued. The first also has the issue date cancelled. There are several possible reasons for this and difficult to say without seeing the whole note; but, I've seen examples that fit the following: 1) The date stamp was applied and the note wasn't used on that day. A new stamp with date was added later. 2) The note was issued on this date, taken back in and reissued with another stamp and the first was cancelled out. 3) When interest was paid 1 Jan 1863, the date was struck out to remind the agent this paticular note had been accounted.
Another Charleston issued:
B.C. Pressley, Assistant Treasurer - Charleston, S.C.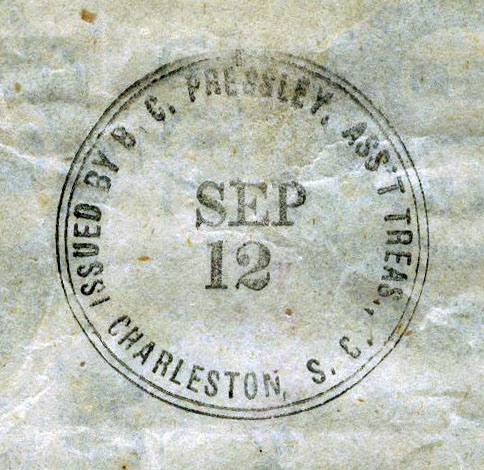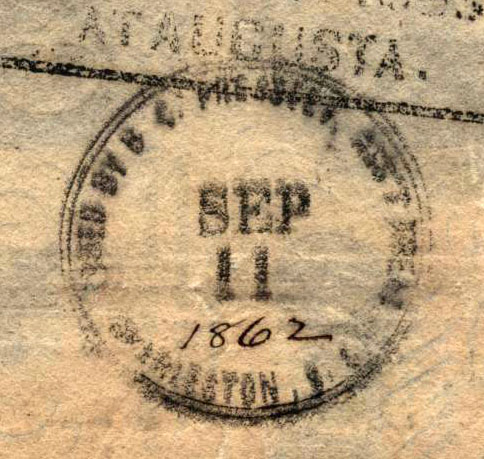 This first stamp only has the month and day and most seen are like this. The year was of course 1862. The second stamp has 1862 added manuscript. Perhaps whoever was helping Pressley on this date decided he needed to add the year. In any case it is an unusual combination. Most stamps are blurred as this one is and hard to read. The stamp at left is sharp and very easy to read and that is quite unusual for one of these issues.
ReIssued from Assistant Treasurer's Office, Charleston, S.C.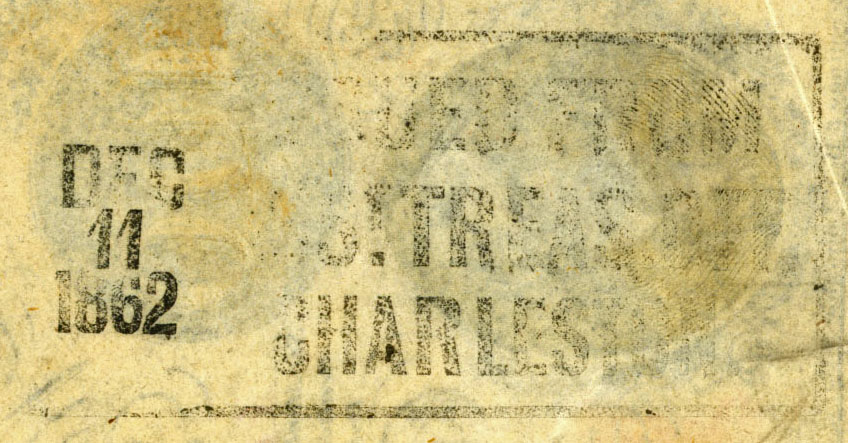 This large Reissue stamp is very uncommon. This stamp were likely made in Richmond and sent out to the Assistant Treasurers to help them with the reissuance of 730 notes.
CHATTANOOGA TENNESSEE (AT)

This is an interesting endorsement. We believe it says
From Chattanooga off
for Office. But it could just as easily be Tenn(essee) Chattanooga Off(ice). We are trying to determine if the handwriting is that of JGM Ramsey or Jesse Thomas. Both were Tennessee Treasury Agents. However, this note, which is undated, was probably issued by Ramsay prior to October 1862. I don't have the information handy as I create this page; but, Ramsey wrote to CG Memminger and said he was sorry that he missed one of the Treasury memos. Memminger had sent a notice to all his Agents to place a date on the back of the notes they issued or paid out that would be used for interest calculations. Ramsey issued out a number of notes before he read the memo. I classify this note as a civil issue; but it could be quasi-military as Ramsay was in charge of local militia and Secret Agents (spies).

We don't know who issued this note. You can see that
Tenn
is very similar to
From
or
Tenn
on the above note. Chattanooga is written similar as well. This note is dated October 15, 1862 and is considered an Agent issue.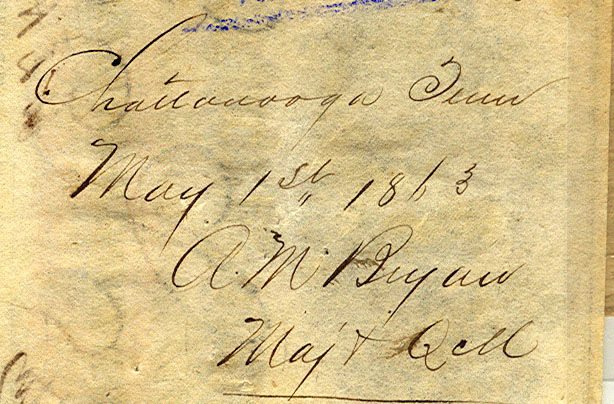 This is a Chattanooga Military issue dated May 1st, 1863
This note was issued by AM Bryan, Major & Quarter Master
COLUMBIA SOUTH CAROLINA
This is an interesting piece. It uses an abbreviation to indicate the place this note was "Received". "Cola" has been the abbreviation for Columbia S.C. for many years. It was apparently taken back in and then "Issued November 1862" (I can't make out the day) by T. Sanford Depositary who was at that time located in Montgomery Alabama. It says "Recd Cola Oct 9th 1862" which would be Received Columbia SC. It also has a neat notation of "Good Time". Most likely this was a soldier's pay and he looking forward to spending this $100 in town and looking to have a "
Good Time
". This note then made it's way back to Virginia where Interest was paid to 1st Jan 1863 at Richmond VA.
COLUMBIA TENNESSEE (AT)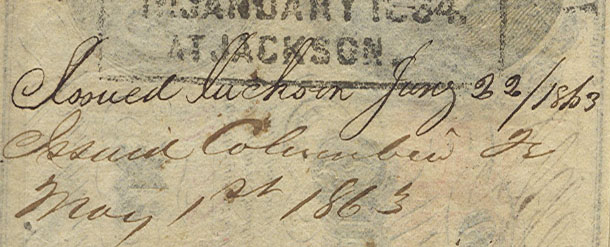 This is actually a ReIssued note. The note was issued first at Jackson, Miss and then "issued" again (reissued) Columbia Te (Tennessee) May 1st, 1863. Jackson was a central location where merchants came to be paid and where agents came to receive fund to be paid out in other far reaching locations. There are two possible reasons for this double issued note. 1) The agent dated for issue a great many notes upon his arrival and his clerks paid the notes out to various parties. This note went to an agent who eventually had the opportunity to issue it as payment for services or merchandise. 2) The note actually issued out that day in Jackson and was taken in by an agent somewhere else and then reissued in Columbia Tenn. I believe the first option occured as many I see taken back in actually state "ReIssued". In any case, the note made it back to Jackson, or to where ever the Jackson Treasury Agent might have been for the 1864 Interest payment.
CORPUS CHRISTI TEXAS (TM)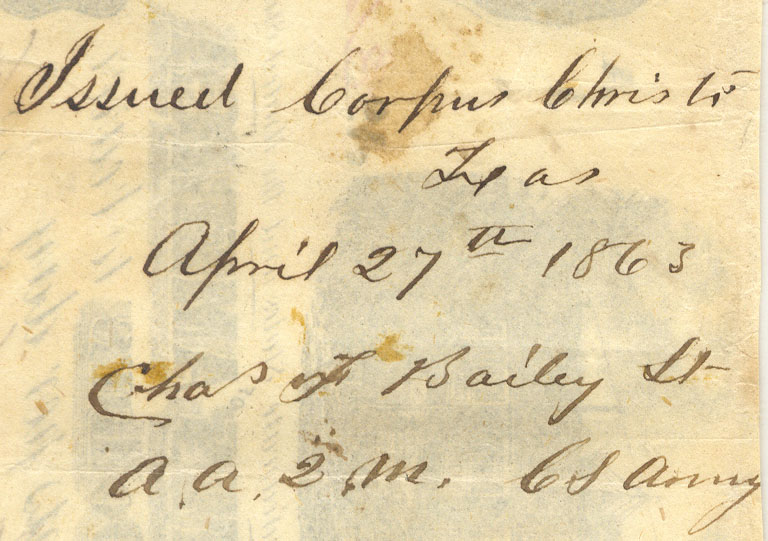 This note was Issued at Corpus Christi Texas, April 27th 1863. This note is a very interesting piece because a Lieutenant is the issuing officer. Most military notes were issued by Captains or Majors. Lieutenant Charles F. Bailey was Acting Assistant Quarter Master (AAQM) Confederate States(CS) Army. This is a Train.
(
There are Agent issues from Corpus Christi as well. They're usually found on Hoers
.)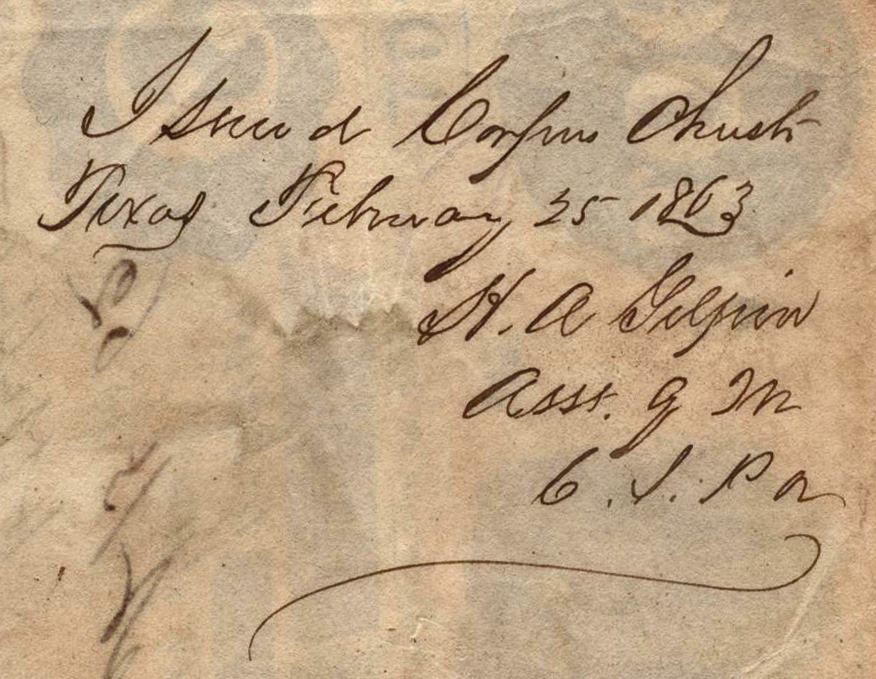 This note was also issued at Corpus Christi, February 25, 1863. This officer is H. A. Gilpin, Assit QM (AQM) Confederate States Provisional Army (CSPA)
* If anyone has a Corpus Christi that isn't officer issued I would appreciate it if you would send me an image to use on this page. CrutchTM01
DALLAS TEXAS
Dallas Texas is a very scarce Issued Place location. There are less than 10 known. I've only seen one piece in person and iamges of two others prior to receiving this image early in Jan 2013. This is different in that it is an Officer Issued. It was prepared for an officer's signature and the actual day was also left blank. Someone wrote in
3d
for March 3rd, 1863 and Capt & AQM CSA but the officer didn't add his name. The name wasn't required. While it would have been nice to see a name it is still a Military Issue for Dallas Texas and the ONLY one of this type to be reported! What a neat find! (AS 2013)

Here is another Dallas, (Agent) Issued March 15th 1863. (AS 2013)
FORT ARBUCKLE - Indian Territory (Oklahoma)
Fort Arbuckle CN (Indian Territory ~ aka Oklahoma)

Originally listed as Fort Archer in the
Robert Ares collection. We now know
that this endorsement is Fort Arbuckle
which was Chikasaw Nation (CN)
Another more recent Fort Arbuckle.
These endorsements are both found
found on T41's. Both notes were
issued on March 27th, 1863.
FORT BROWN TEXAS Found on a T39

For years we heard this location existed. It
finally surfaced in 2015. Written in Red Ink
this is an extremely RARE find. Fort Brown
was located at Brownsville Texas. The date,
difficult to make out, for sure is March 1863
FRANKLIN LOUISIANA (TM)

Agent Issue dated: October 1st, 1862

GALVESTON TEXAS
Assumed to be Civil Issue
Issued four months after
Battle of Galveston ~ Jan 1, 1863
April 14, 1863

GOLDSBORO NORTH CAROLINA

Issued from QrMrDept (Quarter Master Department)
August 20, 1863

GREENWOOD MISSISSIPPI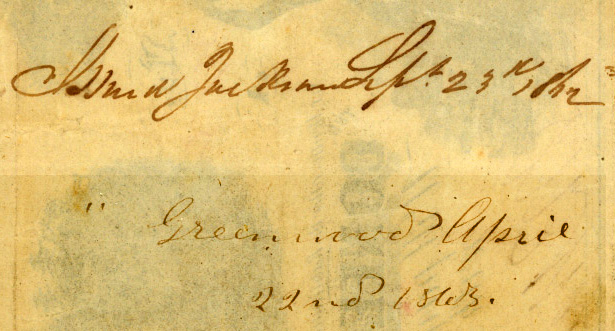 At top:
Issued Jackson (MS) Sept 23rd 1862
" Greenwood (MS) April
22nd 1863.
This note was taken in and then "reissued"
Extremely Scarce location


GREENWOOD SOUTH CAROLINA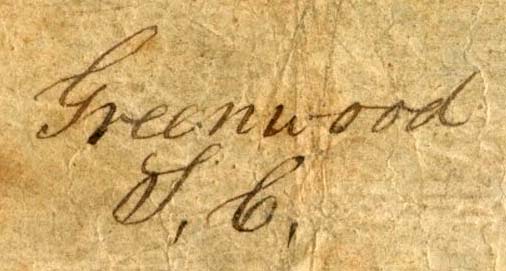 This location is a new discovery in January 2017. This Train also has the initials J.M.R. written at each end of the note.
Here is an image of the entire reverse
image
GRENADA MISSISSIPPI (AT)
Where my ancestor entered CS Army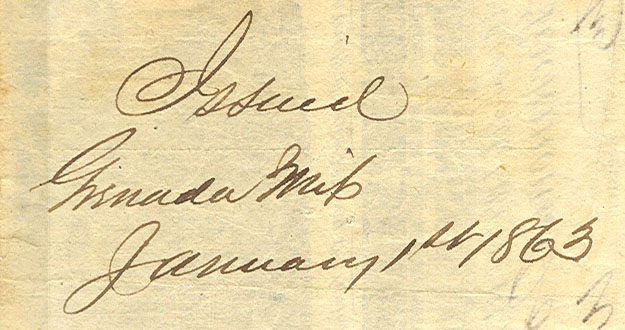 November 26th, 1862 January 1st, 1863


Double Issue: #2 Paid Out - February 20,1863 March 17th, 1863
Genada was a principal staging area for Confederate troops and major supply position as well. While all of these were probably issued for a military reason, they are Agent or Civil issue because no rank or position is indicated.
HEMPSTEAD TEXAS (TM)

Agent: December 12th 1862 Agent: February 9th 1863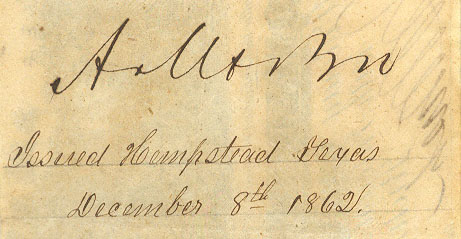 Hempstead was a very active location in Texas. It was a convergence point of Rail & Roads located just to the northwest of Houston that ran to every location in the state. Besides being a major supply distribution point, it was also a location where Confederate troops were massed and trained before being shipped out. Prisoners of War were also brought to Hempstead and held in a camp nearby. The note at left, issued December 8th 1862, has initials one Trainman says are AM&Bro. If this is correct, it most likey was a merchant issue. However, I think the last part might be QM. If anyone has information on this piece, please let me know. (Added 5 Oct 2011: I now believe this initial endorsement to stand for:
A C & QM
for
Acting Commissary and Quartermaster
. CrutchTM01)
HOUSTON TEXAS (TM)
Houston was a very important location. You find Agent and Military issues here.
Blue Ink
is very uncommon!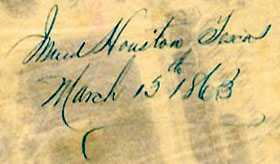 Agent: November 29, 1862 (blue ink) Agent: March 13, 1863 (blue ink)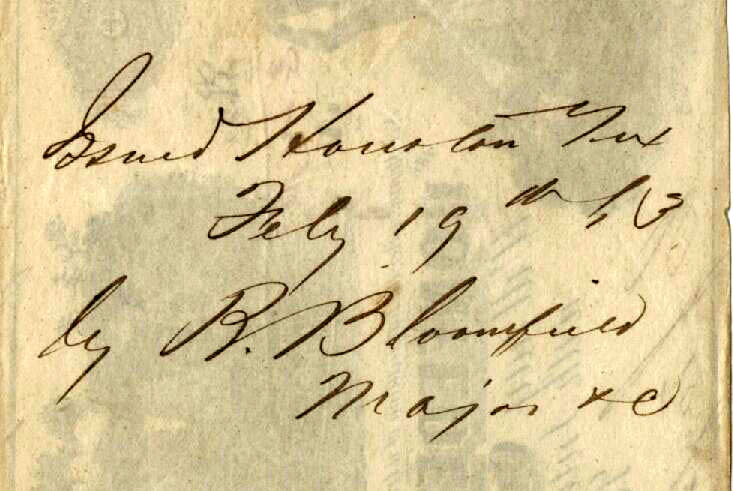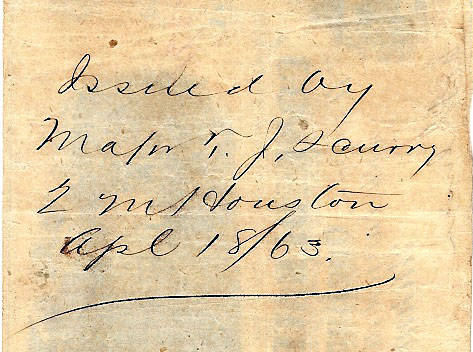 Major RB Bloomfield Commissary Feb 19th '63 Major TJ Scurry QM Houston April 18 1863

How cool is this one? This is a
Red Ink
"Issued Houston, Tex Dec 22nd 1862" manuscript. James Sorley, the depositary for Texas and Collector Galveston issued a lot of notes with red ink. We don't know who this is, but Red Ink is quite scarce and this is currently the only known example. RA Jan 2013
There has been a great deal of INTEREST in Trans-Mississippi ReIssues. All reported dates of Houston Re-Issue are shown.


RE-ISSUED January
12th
1863 << 2 different varieties of stamp >> RE-ISSUED January
17th
1863
note: January has only cap J and small letters for balance - this JANUARY is all in caps.


Speical interest -
RED
ink! Jan 30th, 1863 February
24th
, 1863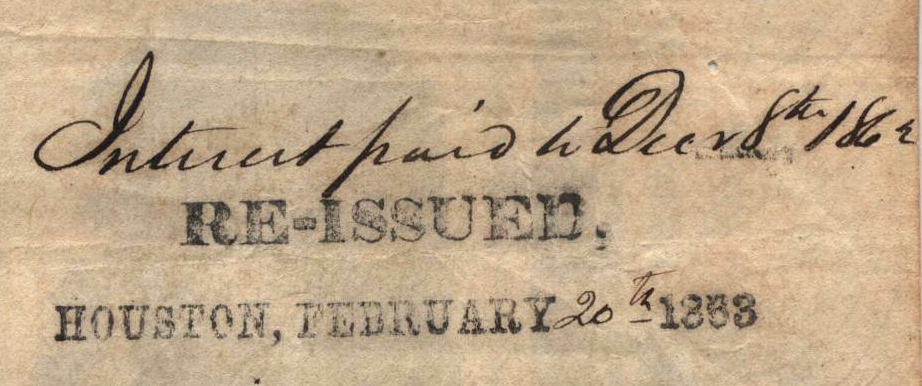 A new date for the Houston Re-Issues.
20th February 1863
(AS 2013)
This non-standard IP is the earlierst
reported and is also shown on the IP page.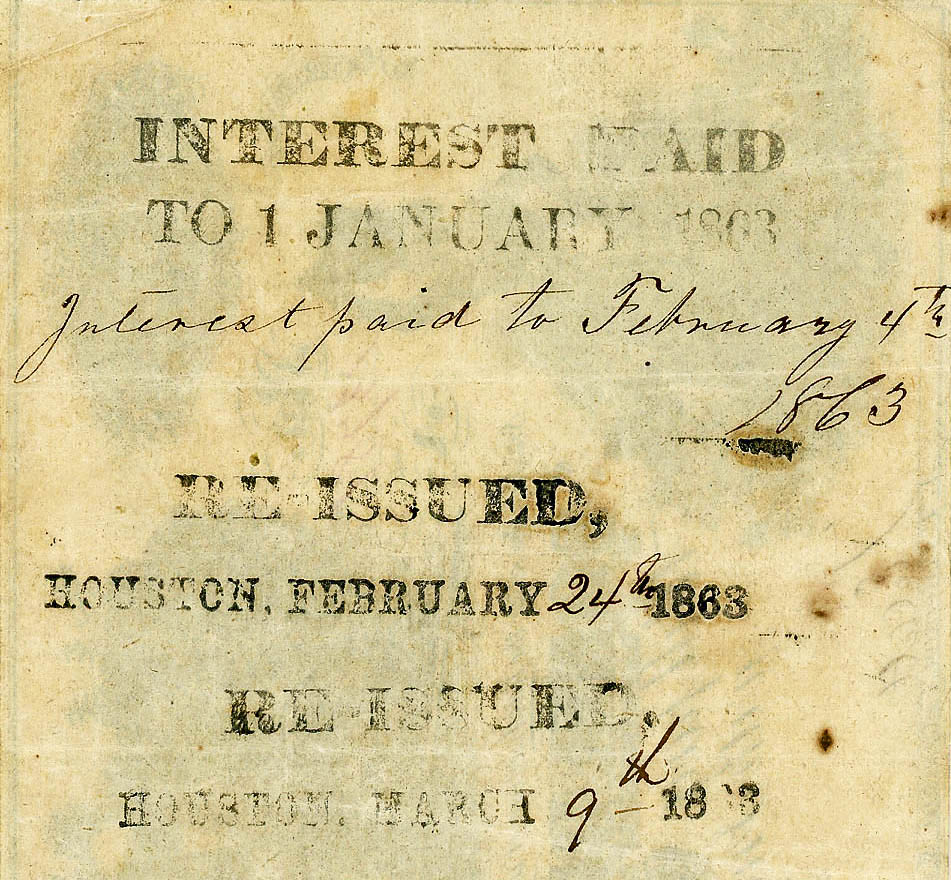 This is a real interesting group of Interest Paid and ReIssued stamps. The Interest Paid to 1 January 1863 is seen on Trans-Miss notes. Then you find a manuscript Interest Paid to February 4th, 1863. This is an Odd Date Interest Paid statement and one we have another example of imaged on the IP webpage
The RE-ISSUED Houston February 24th 1863 is displayed above, but the RE-ISSUED Houston March 9th, 1863 is new to our Census of Re-Issued Houston TX stamps.
A Transmississippi Re-Issued Houston is a
must have
for any 730 note collection.


March
18
, 1863 MARCH
26
1863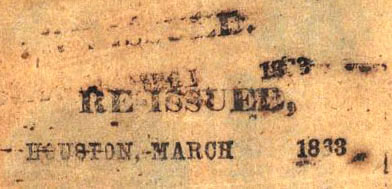 RE-ISSUED MARCH
31
1863 RE-ISSUED MARCH
(No Date)
1863
***** Below is a Bogus Stamp ***** ((( Below Genuine)))


This is a
BOGUS
RE-ISSUED Houston March RE-ISSUED APRIL
1
1863 (
blue or blue-black ink
)
This piece is
Modern Made
to scam buyers!
BOGUS Postal Stamp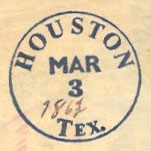 Example of Houston Texas Postal Issue Hand Stamp. This piece, illustrated at left, is a
BOGUS COPY
and is affectionately known as a
Grover
Special.
Grover Criswell is said to have made up this stamp for a collector who wanted one desparately. It is the only Postal Stamp on 730 1862 Interest Hundred that is unknown in numismatic circles. The 2nd Edition 1986 Dietz Confederate States Catalog and Handbook lists the eight (8) postmarks used on Southern currency on page 258. Five examples known to have been used on these notes are pictured. Those five are Charleston, S.C.; Houston, Tex:; Jackson, Miss; San Antonio, Tex; and, Shelbyville, Te. The other three are Lenoir, N.C.; Richmond, Va; and, Savannah, Ga. You will find images on this page of all the other postmarks except Richmond, Va. It is generally believed that this stamp on the 1862 Interest $100 exists in philatellic circles as those collectors searched out Confederate Postal Stamped notes over 50 years ago. If you have one, or know someone that owns one, please ask them to provide an image that I can display. I also need an example of Richmond, Va. to add to this listing.
JACKSON MISSISSIPPI
(AT)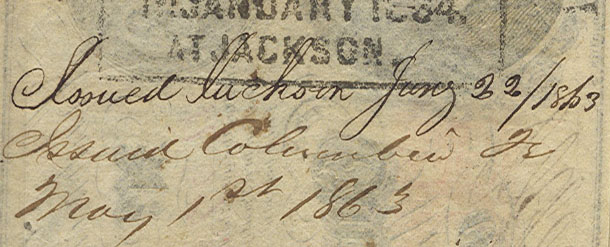 1st Issue Jackson 19January63 with Grenada Ms 1st Issue Jackson 22January63 with Columbia Te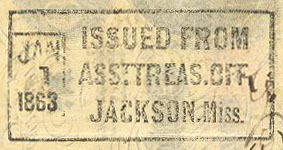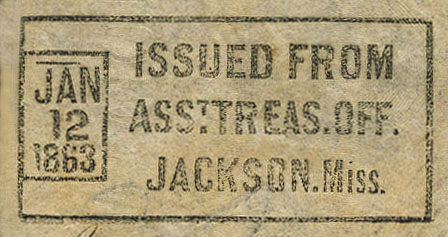 Asst Treas Off Stamp Jackson Miss 1Jan63 Asst Treas Off STamp Jackson Miss 12Jan63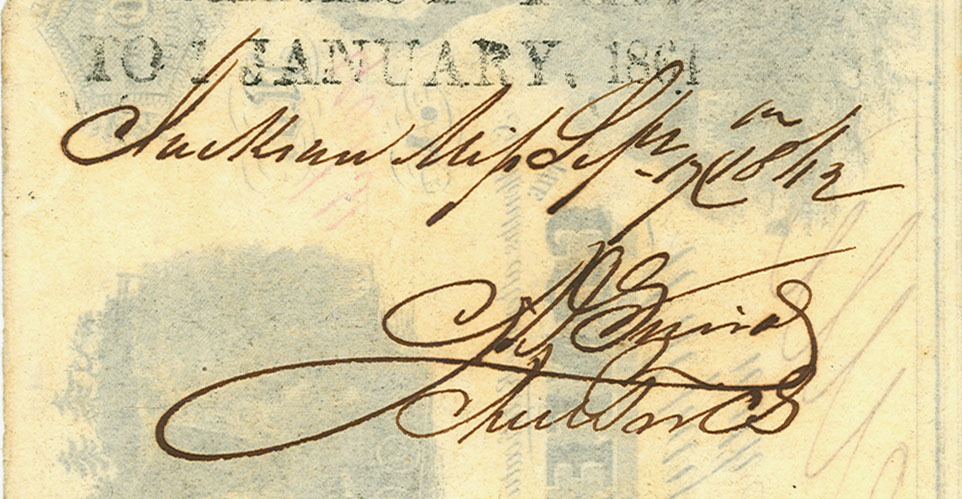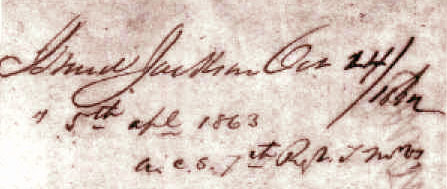 Jackson Miss 17Sept62 - AJ Guirot Ast Trea CS (*) Jackson 24Oct62 - ReIssue ACS 7th Reg TMV


Jackson (MS) January 1st 1863, San Antonio TX Jackson Feb 25, 1863 Francis Poe Produce Agent
RARE
~ Red Ink!
POSTAL ISSUE STAMPS: Jackson Miss
There are many different. I will show more later, but this stamp is quite common!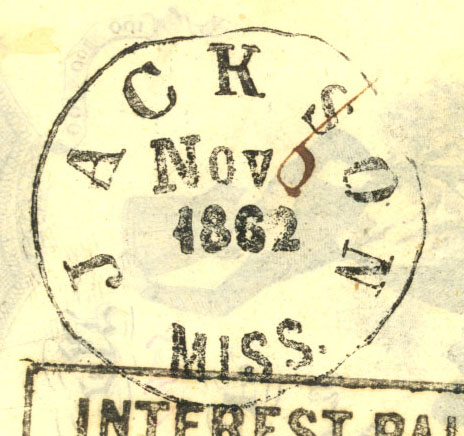 November 6, 1862 (TM30)
JEFFERSON TEXAS (TM)

March 2, 1863 From JC Murphy a Cotton Merchant
KNOXVILLE TENNESSEE (AT)

Knoxville Tennessee December 18th 1862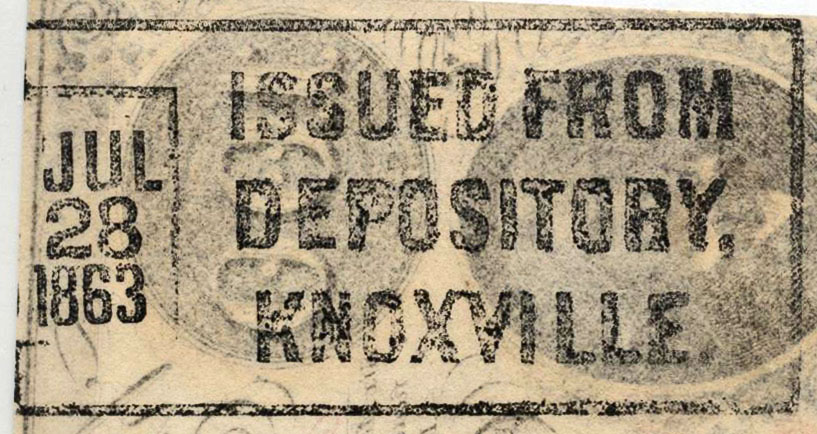 This Knoxville Depository was a Traveling Stamp
LENOIR NORTH CAROLINA (AV)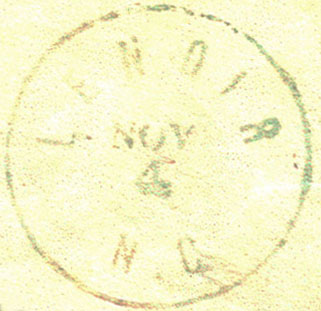 (*) Lenoir North Carolina Post Mark
Nov 4 (1862). The color of this PM
is a light blue green.
Image courtesy: Hudson McDonald, TM20
LITTLE ROCK ARKANSAS (TM)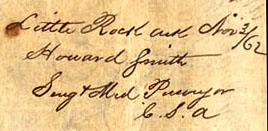 Little Rock Arkansas November 3, 1862
Howard Smith (MD)
Surgeon and Medical Purveyor C.S.A.
Military Issue

`` Issued Little Rock (Arkansas)
February 14th, 1863
LONG SWAMP FLORIDA (AV)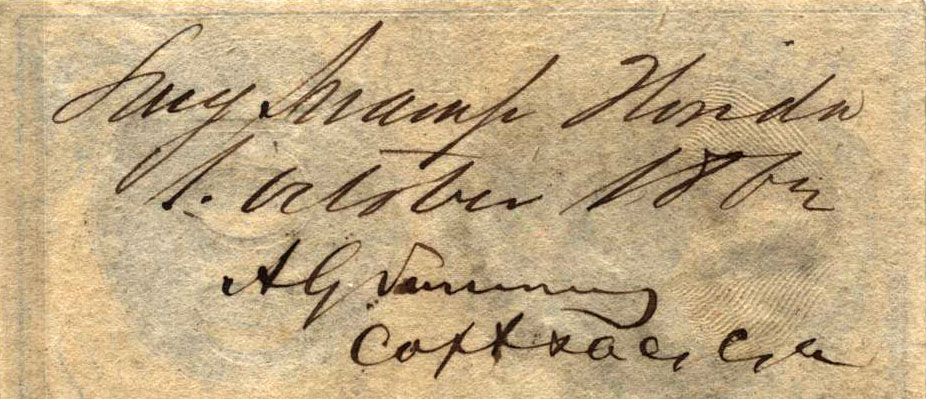 Long Swamp Florida was Commissary of Subsistance depot in Putnam County Florida. It was probably located somewhere between San Mateo and Satsuma along the Old San Mateo Road. "Long Swamp" today is a body of water in the Dunnís Creek Conservation Area.
This note was issued October 1st, 1862 by Capt Adam G. Summers, Capt & ACS, CSA. His primary responsibility was herding cattle across the state as well as stock piling and keeping safe other sundry supplies. His commanding officer in this area was Brig. General Joseph Finegan who is most noted for the Battle of Olustee in Baker County Florida, February 20, 1864.
Special Thanks
to Lunelle Siegel, Augusta Jane Evans Wilson Chapter #2640 United Daughters of the Confederacy Temple Terrace, Florida for background information on Capt Summers and Long Swamp Florida. Col Crutch Williams CSA & Life Member SCV
(new image AS 2013)
MOBILE ALABAMA (AT)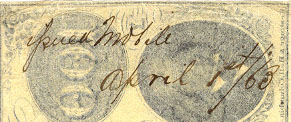 April 1st, 1863 - heavy brown ink
Normal vertical orientation T41
This pair of Mobile are normal vertical orientation
Red & Brown inks
This pair illustrates horizontal orientation
Red & Brown Inks
All Five (5) of these Mobile issued notes were written by the same person! There are only a few very minor differences
but enough is the same to assure anyone with a discerning eye they are all from the same hand!
MONROE LOUISIANA (TM)
Monroe Louisiana was the Trans-Mississippi Depository for the Confederate Treasury Department. Most people think Shreveport was; but, Shreveport was the military HQ. This information can be found in the Confederate Treasury Correspondence. The Depository was moved to Shreveport around the summer of 1863 and later to Marshall Texas.

Agent Issued: April 17, 1863
Monroe Trains are scarcer than Monroe Hoers.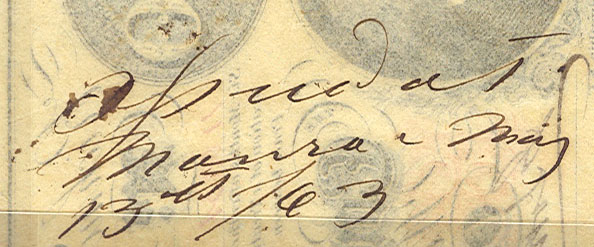 Typical Brown Ink.
Agent Issued: May 13th, 1863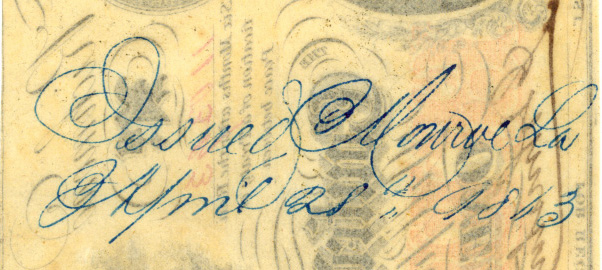 This is a Blue Ink Monroe. This has to be really scarce!
This image was added to the webpage as New to Census
on 5 Sept 2012 by R.A.
Agent Issued: April 28, 1863
MONTGOMERY ALABAMA (AT)
Several Examples of Treasury Agent - T. SANFORD's Depositary Issue Stamp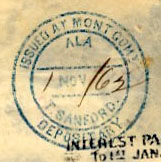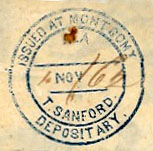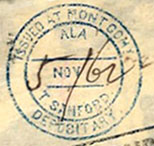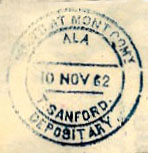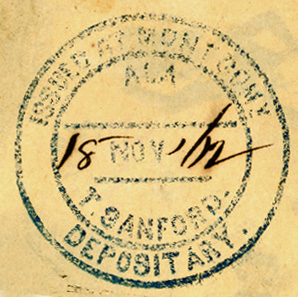 1
NOV
/ 62
4
NOV
/ 62
5
NOV
/ 62
10 NOV 62
18
NOV
'62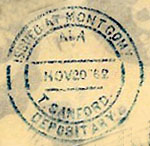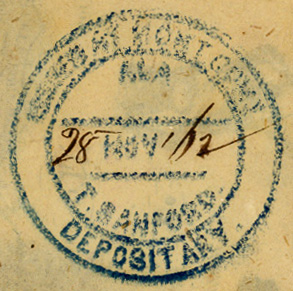 NOV20 '62
25
NOV
'62
27
NOV
'62
28 NOV '62 10 JAN 63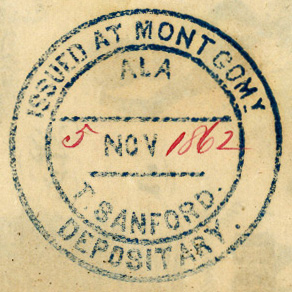 We have this date listed above; but..
This is Red Ink and only one I've seen!
Notice 1862 is written out where all the
other stamps are abbreviated


5
NOV
1862

Depository Stamp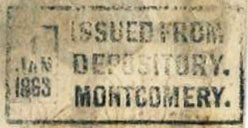 Manuscript: Issued Montgomery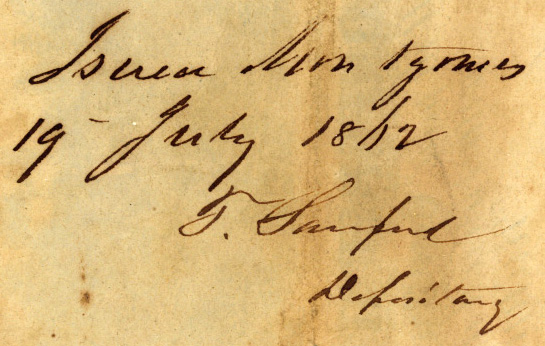 Issued 19 July 1862
T. Sanford ~ Depositary
This is a very early date
This manuscript Montgomery is quite scarce!




NEW IBERIA LOUISIANA (TM)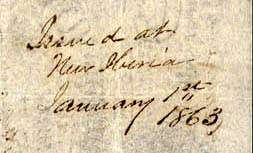 Agent: New Iberia
January 1st, 1863
Another Example Issued May 1, 1863 with TM
Interest Paid stamp - Classification: Agent Issued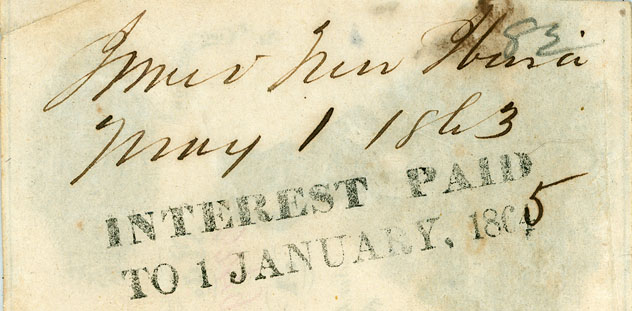 PORT HUDSON, LOUISIANA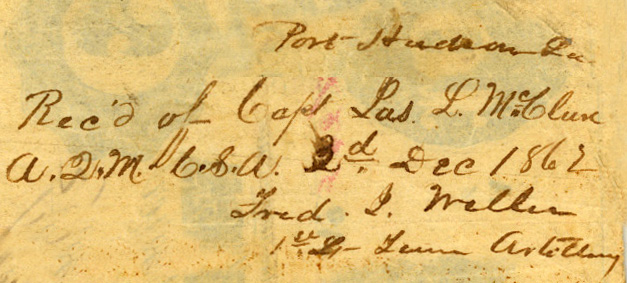 Military Issue:
3rd December 1862
Received of
Capt Jas. L. McClure
Fred. J. Weller 1st Lt.
Tenn (
Light
) Artillery
Information in The Book under McClure
Should be listed under
WELLER

RICHMOND VIRGINIA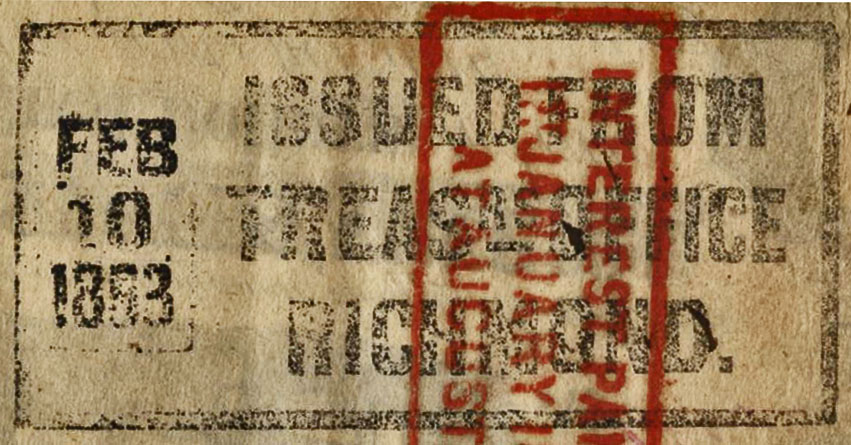 This stamp says,
ISSUED FROM TREAS
rs
OFFICE
RICHMOND.
FEB 10 1863
This is a Scarce Stamp!
ROME GEORGIA (AT)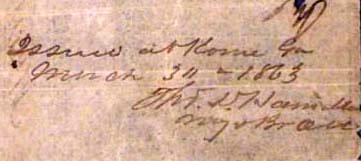 Military Issue:
March 30, 1863
Major Thomas D. Hamilton
Brigade Quarter Master
SAN ANTONIO TEXAS (TM)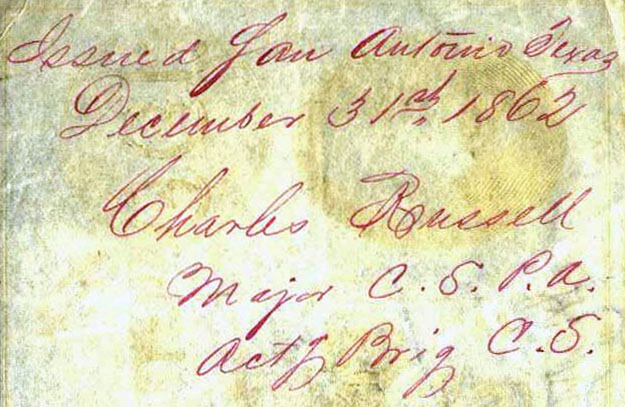 Military Issue:
San Antonio Texas
December 31st, 1862
Major Charles Russell
Confederate States Provisional Army
Acting Brigade Commissary of Subsistance

Extremely unusual -
BLUE
ink April 1st, 1863 San Antonio Texas May 1 - 1863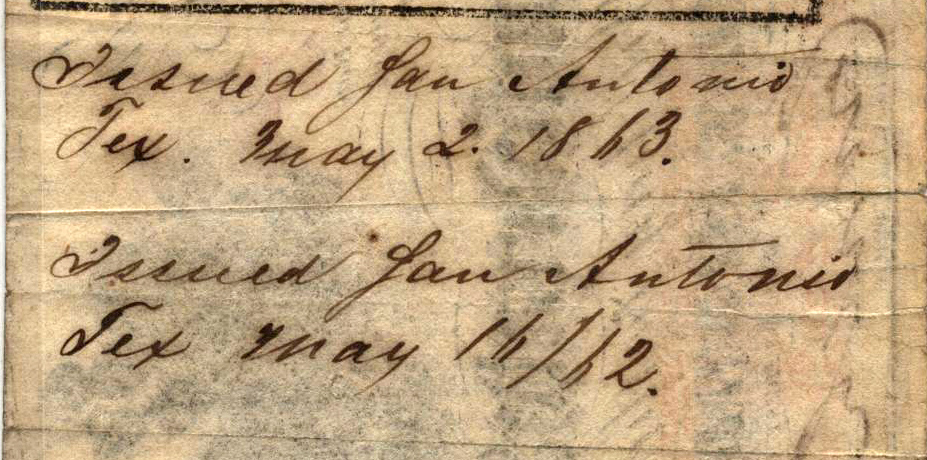 Double Issued San Antonio with Dating Error!
The first issuance was May 2nd 1863 and then you have a dating error for the 2nd issuance or re-issue. It says May 16, 1862, but that would be impossible. Human error created this and of course the date would be May 16, 1863. The note was likely paid out and then taken back in by the depositary and then reissued two weeks later. (AS 2013)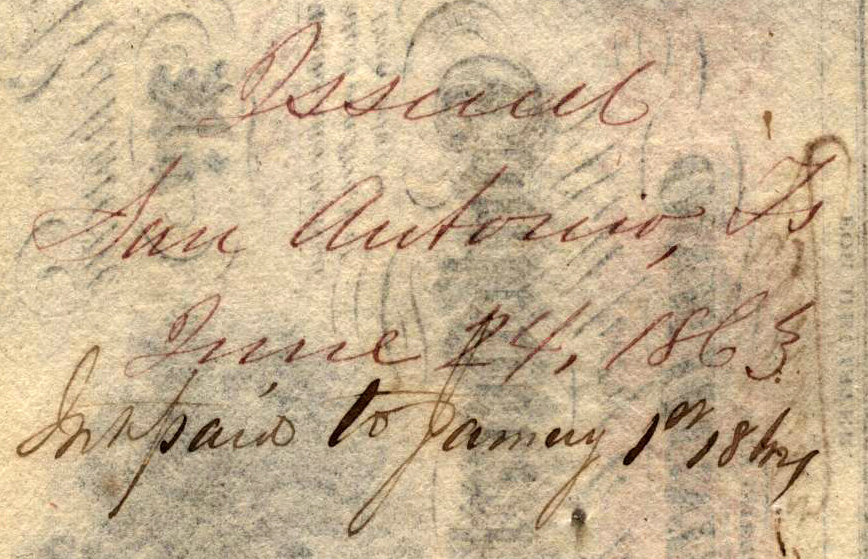 A nice Red Ink San Antonio dated
June 24, 1863
(AS 2013)

1st) Issued Jackson MS
2nd) (re) Issued San Antonio TX
July 8th 1863
San Antonio Issued Post Mark (Various Dates these months - PAID removed on most)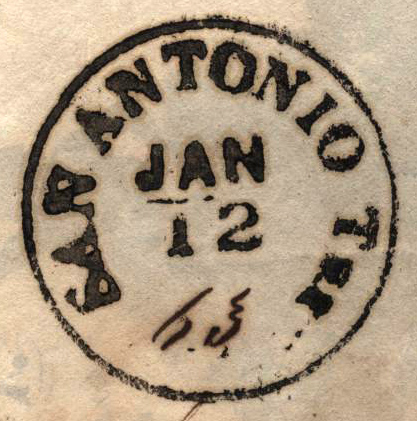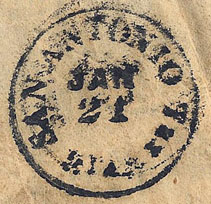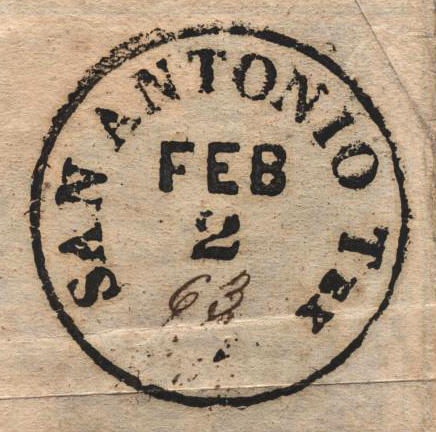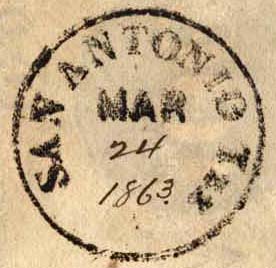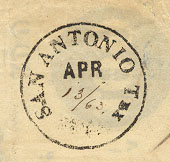 JAN 12
63
JAN 21 (
1863
) FEB 2 '
63
MAR
3/63
MAR 24 1863 APR
13/63
PAID is Blundered
Year Complete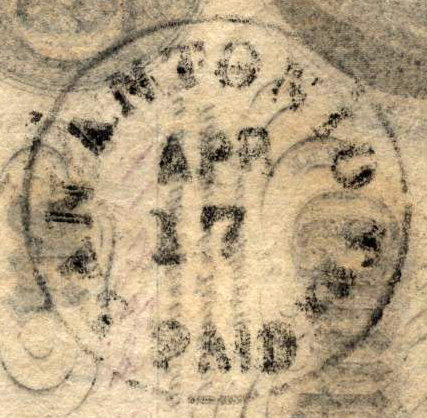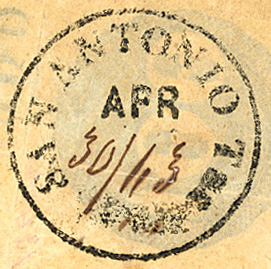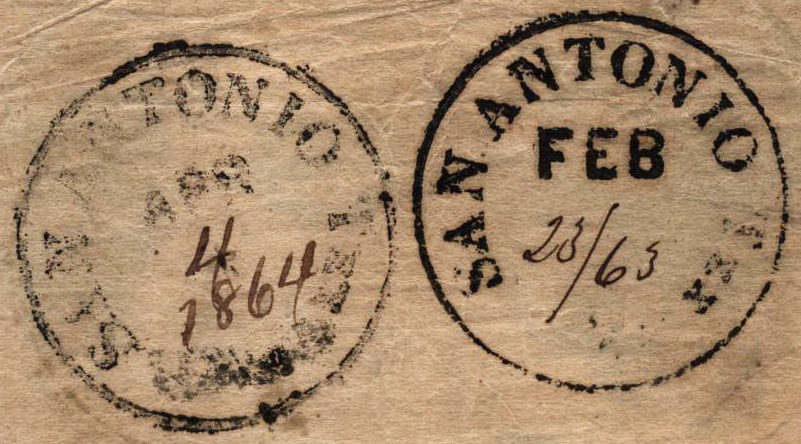 APR
17 (
1863
)
APR
30/63
FEB 23 '
64
/63 Pair: April
4 1864
& Feb
23/63
PAID is Sharp
SAVANNAH GEORGIA (AT)
Examples of John Boston's Depositary Issue Stamp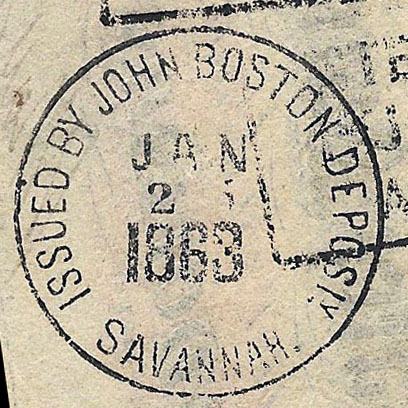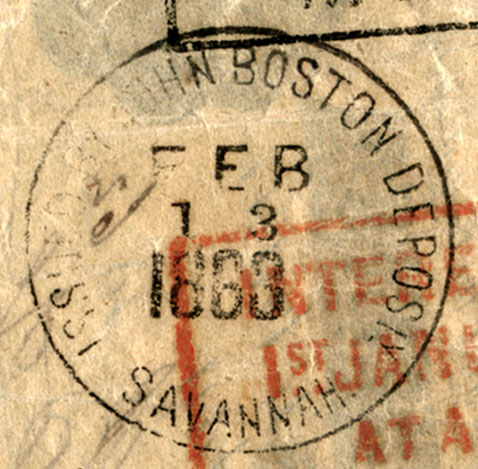 NOV 25 1862 JAN 25 1863 FEB 13 1863

Depository SAVANNAH isn't seen too often!.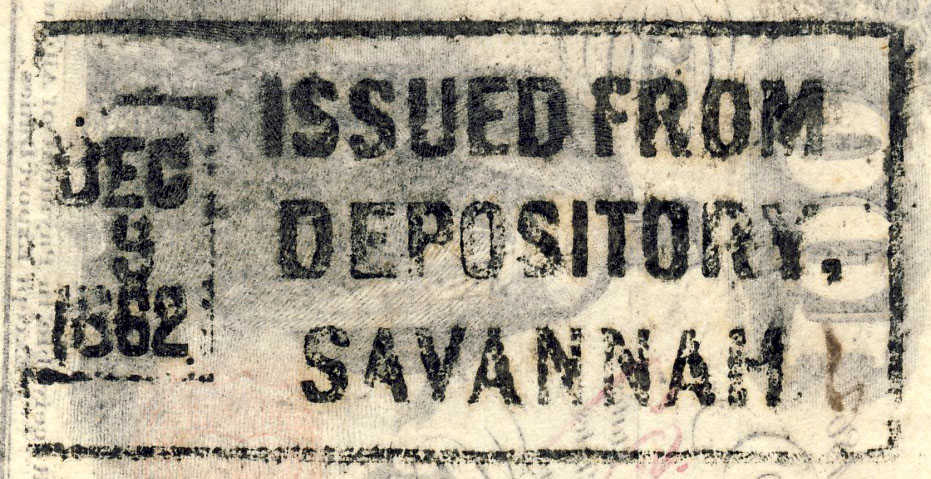 SHELBYVILLE TENNESSEE (AT)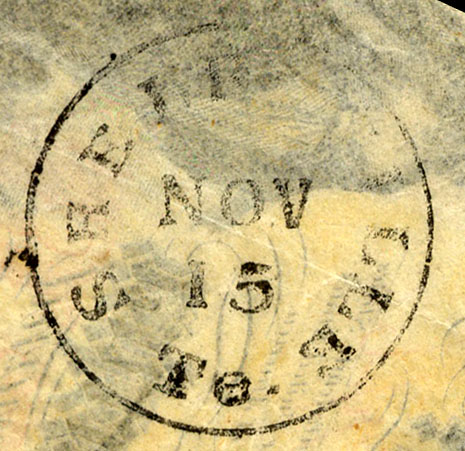 Extremely Scarce!
Shelbyville Tennessee Post Mark
November 15, (

1862

)



SHREVEPORT LOUISIANA (TM)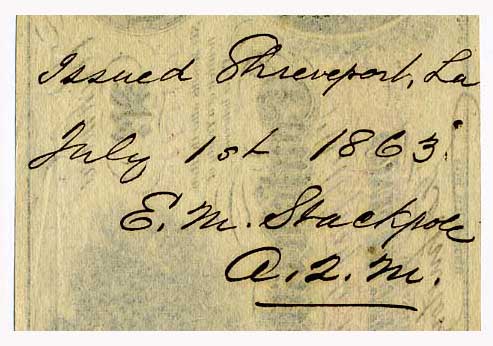 Known for about three years now I just received this image.
This note was Issued Shreveport, Louisiana July 1st 1863
by E. M. Stackpole, AQM.
This is a really neat Officer and Place combination and first
Shreveport, LA Tran-Miss reported other than other types
that Gen. E. Kirby Smith authorized for emergency issue at
Shreveport around September1863.
Exact Locations
UNKNOWN

This orange November 23th, 1862 stamp is usually found with the
Shelbyville Te. stamp imaged above. The exact origin is Unknown
but we presume it was used somwhere in Tennessee and probably
in or around Shelbyville.



The exact location where this style stamp originated is Unknown; but,
we now know it was used in the State of Georgia and perhaps around
or close to Savannah. Other examples of this stamp are found on the
Date Only webpage. It is now referred to as the Georgia Black Date
Stamp. See research PDF by Enrico Aidila at bottom of Home Page.

SPARTANBURG, SOUTH CAROLINA


This is the FIRST and ONLY example of this location
that the Trainmen have come across. It is found on
the reverse of a T41 dated August 30th. Here are
links so that you can see the note. Notice that it is
also associated with a BC Pressley Issued Stamp.
Obverse Reverse


WACO TEXAS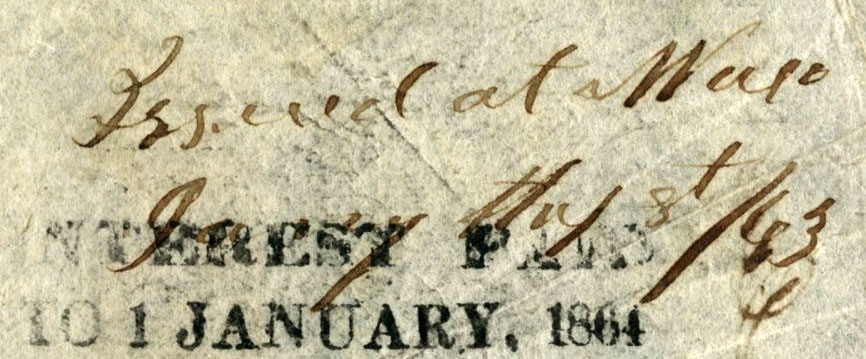 Another Transmississippi issue that wasn't known to
exist until it was discovered sometime in 2015. This
endorsement is found on a Hoer (T41).







WILMINGTON NORTH CAROLINA (AV)




Presumed Agent - Henry Savage Depositary - endorsement.
December 27th, 1862.




Presumed Agent - Henry Savage Depositary - Issue Stamp.
January 13, 1863. This typeset matches known IP stamps.



END of LIST - Return to Trains & Hoers Image Page Return to Trainmen Main Page