Trainmen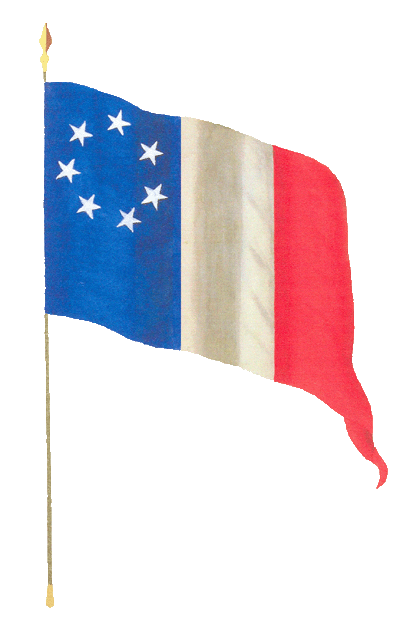 Confederate Revenue Flag


Second Official Confederate Flag
Signed into law by President Jefferson Davis April 2, 1861


Pursuant to Act of Congress in Secret Session March 16, 1861

Ordered by C. G. Memminger, Secretary of the Treasury, April 5, 1861





Officers Founders Past Commanders
Board of Directors


New Rules



Officers August 2023 - August 2024

After Blue Ridge Convention


Col Crutch Williams TM01 -

Commander

Charlie Knupp TM26 -

Adjutant

David Mayfield TM12 -

Judge Advocate



Board of Directors (7)
Five Permanent (*) with Immediate Past & Current Commander or Replacement
1) Crutch Williams, TM01 *
2) Walt Rudecki, TM03 *
3) Amanda Sheheen, TM06 *
4) Roger Adameck, TM30 *
5) , TMxx (Not Yet Filled 2022)
6) Mike Stair, TM37 (Past)
7) , TMxx (Not Yet Filled)

Agents
Original Members
W Crutchfield Williams II, TM01
Tony Johnson, TM02 -
Deceased
Walt Rudecki, TM03
Dave Mimms, TM04
-
Deceased
Randy Shipley, TM05 -
Deceased
~ 1st Expansion ~ 3 demitted ~
Amanda Sheheen
,
TM06
Correct Numerical Order is TM# +1

Marvin Ashmore, (
10th)
TM09
-
Deceased
~ TM Reorganized ~
Pierre Fricke, TM10
Ron Herzfeld,
TM11
David Mayfield, TM12

Mike McNeil, TM13
George Tremmel, TM14
Dr. De Witt Bailey PhD, TM15
-
Deceased

Roger Moulton, TM16
Ned Lea, TM17
-
Deceased
Wes Carter, TM18

C. Vernon Vallance, TM19
Hudson McDonald, TM20 -
Deceased
Mike McDonald, TM21
Henry Seale, TM22
Brian Strange, TM23
Randall Smith,
TM24
Bob Clark, TM25
Charlie Knupp, TM26
Ryan Williamson,
TM27
Keith Edwards,
TM28
Dave Schnorr,
TM29
Roger Adamek,
TM30
Larry Jones,
TM31
Richard Laster,
TM32
Clint Reynolds, TM33
Jim Fitzgerald, TM34
Chris Jones, TM35
Ron Perdue, TM36
Mike Stair,
TM37

Ed Mason,
TM38
Granvel Block
TM39
Wendell Wolka
TM40
Layton 中尾 Nakao,
TM41
Ralph Allen,
TM42

John O'Neal,
TM43

Mike Welch,
TM4
4

Enrico Aidala
,
TM45
D. Scott VanHorn,
TM46
John Helm,
TM47
Mike Tekesky,
TM48
Brad Ciociola,
TM49
End of First 50 Members
New Era ~ Post January 2014 ~ Reformation ~ 2017
Lou
Serignese, TM51
Raiden Honaker, TM52
Stephen Walker, TM53
Kevin Reese, TM54
Sean Armstrong, TM55
*
Provisional/Probationary
*
M
ar
shall Mallory, P
TM56
*****
Return to Main Page


SPECIAL AGENTS

This select group of individuals have been recognized and acknowledged for their special contributions to CSA Trainmen
Early appointments made by
Col Crutch Williams CSA, TM01
New Era ~ Post January 2014
Any Past Commander may propose Membership of Special Agent Trainmen
Current Commander, Immediate Past Commander and Circle of Five vote by simple majority


Richie Self SA01
Malcolm Self SA02
Hugh Shull SA03
Wayne Hilton SA04
~SA05 Transferred to TM~
Gene Hall SA06

~SA07 Transferred to TM~
Fred Reed SA08 - Deceased
Carl Fogarty SA09
Tom Carson SA10
Greg Ton SA11
Austin Sheheen SA12
Doug Davis SA13

James Desabaye SA14

~SA15 Transferred to TM~
John N. Rowe SA16
Hank Simmons SA17
Denny R. Smith SA18
Ralph Muller SA19

Past Commanders Trainmen
Crutch Williams, TM01 1999-2003 (4)
Tony Johnson, TM02 2004-2005
Walt Rudecki, TM03
2005-2006
Dave Mimms, TM04
2006-2007
Randy Shipley, TM05 2007-2008
Mike McNeil, TM13
2008-2009
Ron Herzfeld,
TM11
2009-2010
Marvin Ashmore,
TM09
2010-2011
Randall Smith,
TM24
2011-2012
Roger Adamek,
TM30
2012-2013
Charlie Knupp,
TM26
2013-2014
Amanda Sheheen,
TM06
2014-2016 (2)
Roger Adamek,
TM30
2016-2017
Jim Fitzgerald, TM34 2017-2019 (2)
Enrico Aidala,
TM45 2019-2021 (2)
Brian Strange,
TM23 2021-2022
Mike Stair,
TM37 2022-2023
Friend of Trainmen
Honorary
This is a list of individuals and their organization or position at the time that have gone beyond the
Call of Duty
to assist me personally as well as the CSA Trainmen in general with research of and for our shared interests. I previously listed their websites; but, a number of these individuals have changed their job titles and/or moved on to other institutions or into the private sector as well as retiring.
I, Col Crutch Williams CSA, TM01, have hereby bestowed this honorary title to the following individuals:
1) Betty Lott, Genealogy Research Assistant - Wallace State, Hanceville, Alabama
2) Vaughn Stanley, Curator - Washington & Lee University, Lexington, Virginia
3) Cathy Wright, Collections Manager - Museum of the Confederacy, Richmond, Virginia
4) Dr. Lynda Crist, Jefferson Davis Paper - Rice University, Houston, Texas
5) Lee Shepard, VP-Collections - Virginia Historical Society, Richmond, Virginia
6) Greg Biggs, Text Editor & CSA Flag Expert - Flags of the Confederacy, Organization
7) Tamara Braitwaite, Registrar - Pink Palace Museum, Memphis, Tennessee
8) Tom Wancho, Exhibit Planner - The Bob Bullock Texas State History Museum
9) Sam Hood, direct descendant & founder - General John Bell Hood Historical Society
10) Vicki Betts, Librarian - Robert R Muntz, Library - University of Texas, at Tyler


Membership Requirements & Procedure
Amended: 2 October 2010, ? July 2013
TRAINMEN


1) You must have a genuine interest in Confederate 730 Interest Hundreds (Trains & Hoers) that goes well beyond simply collecting CSA Type Notes, Counterfeits and their Varieties. This study group now includes Trans-Mississippi issues and documents, Bonds, IDR, Exchange Certificates and anything related to CSA notes and the History of the Confederate Treasury Note Department.
2) You must be known by two or more Trainman who can personally vouch for your interest in this specialized field of study to immediately be considered for membership with this web based study group. You will need to contact your primary and secondary sponsors by email and request that they place your name for consideration before the group as Agent Trainmen. (*)
3) You must own at the time of application at least two examples of 730 notes consisting of two Trains of either variety, or one Train and one Hoer and provide images of at least two notes via email attachment. If you do not have a scanner or digital camera hard copies in color are acceptable sent by mail to one of your sponsors .
This rule has no exception!
(July 2013 see #6) 2022 - This rule has become LAX! <G> TM01 no longer has a collection of TRAINS. A proven interest in the HISTORY of the Confederate Treasury Department will suffice.
4) Upon presentation to the group, you will first be listed as Provisional/Probationary Member Trainmen for an unspecified time. During this period you will be expected to introduce yourself to the group providing general background information on yourself and finally you must describe your interests related to 730 notes &c . At a time specified by the Commander Trainmen a final vote will be taken.
5) (*) Anyone desiring membership who doesn't meet the requirement under #2 may contact the new webmaster, Roger Adamek, for optional consideration. He will ask you a few questions about your interests and ability to participate via email and then put you in touch with the current officers. One or more of the officers will contact you and discuss your interests and then report their findings to the group. They will also act on your behalf as stated in item #2.
Roger Adamek
(click for email link)
6) Special Exception - Special Exception to any rule or procedure may be invoked by a consensus of Committee made up of Circle of Five, Immediate Past Commander and Current Commander. (Placed in record - July 2013)


Circle of Five

Founding Members
Crutch Williams, TM01
Tony Johnson, TM02
Walt Rudecki, TM03
Dave Mimms, TM04
Randy Shipley, TM05
TRAINMEN RULES
There are many unwritten rules and edicts &c.. You'll be advised should you ever cross that line!
There is No Rule greater than
NO WHINING!
Col Crutch Williams CSA TM01

New Written Rules

This section is to be rewritten and will not be included on this public page. A Committee was formed at Memphis during "Secret Session" and will advise their findings at a later date to the TM Group. It was unfortunate that our Recorder, Randy Shipley, who wrote all our records down and compiled all of our Rules and set them them down on legalese, passed away in February 2019 and most likely we won't be able to get those records and place them on this website. He told me sometime before his passing not to worry about anything. Just tell them to refer to Rule #1. We will Randy, we certainly will! Crutchie

Return to Main Page